Welcome to Shooting Stars Nurseries
Providing bespoke care and
early education for your child
Make Enquiry
Welcome to Shooting Stars Nurseries
Shooting Stars Nurseries is a family-owned network of children's day nurseries in 6 great locations, each featuring fantastic secure outdoor play spaces and car parking for your convenience. Our nurseries are uncluttered, light, spacious, and furnished in neutral tones, creating a calming, purposeful play environment. Our outdoor spaces are designed to give our children a range of opportunities, experiences, risks and challenges that are unique to the outdoor environment, with space to run and play and the opportunity to connect with nature.
Why choose Shooting Stars Nurseries?
At Shooting Stars Nurseries, your child will enjoy a rich, exciting nursery experience which will have a positive influence on their learning and development. We provide the highest quality of childcare in a safe, nurturing and inclusive environment. Our highly trained staff teams are dedicated to supporting each and every child to build strong foundations for future learning, helping them to develop good self-esteem, self-belief and the confidence to 'have a go'!
Young children truly thrive when they feel safe, settled and at ease which is why our environments are designed to enable children the space, choice and opportunity to explore their own unique fascinations and interests without sensory overwhelm and clutter. You can read more about how our enabling environments set the scene for our learning approach here.
We offer a blended learning approach, combining child-led, open-ended heuristic style play with adult-guided activities to ensure all areas of the EYFS are covered. Our staff teams work to create a balance between a relaxed, comforting and nurturing environment whilst also providing challenging and exciting opportunities appropriate to each child's age and developmental stage. You can read more about why heuristic play is so beneficial here.
The ultimate aim is for each child to leave us with the confidence, skills and independence to reach their full potential when they go to school, taking with them many happy memories of their early years' experiences at Shooting Stars Nurseries. You can read more about how we help children to prepare for school here.
We know that strong, effective partnerships with children's families are some of the most valuable tools in 'getting it right' for them and work in close partnership with parents to ensure good communication between home and nursery. We understand the importance of 'keeping you in the loop' with regular observations and notices on the eyLog app, scheduled parent partnership meetings and informal chats upon collection.
The welfare and security of the children is our highest priority and we are proud to operate a 'Parentcam' CCTV system giving you secure on-line visibility of your child for total peace of mind. You can download our NurseryCam information sheet here. You are welcome to phone or email us at any time through the day for reassurance.
How to find out more or register your child
We understand that choosing the right nursery for your child is a big decision and we would be delighted to answer any questions you may have to help you make an informed choice. We warmly welcome you to attend an Open Day or arrange an appointment to visit your local setting to get a feel for the environment and meet some of our people. We accept registrations all year round with flexible start dates, subject to availability of child places. (Early registration is advised to secure your preferred sessions). Click here to contact us.
You can read our verified reviews to find out more information about all aspects of Shooting Stars Nurseries here.
Our Team
We understand that the standard of childcare provided by any nursery is wholly dependent on the experience, qualifications and qualities of the staff team, and we think our team are the best! We are proud of our commitment to our safer recruitment procedures ensuring all staff are fully checked, trained and inducted into their roles. Every staff member is also Paediatric First Aid trained as part of our commitment to keeping each child safe, healthy and happy at nursery.
If you're a childcare practitioner who believes in putting the child at the centre of everything you do, visit our Careers page to find out how to join our team!
Let's Eat!
Nutritionally balanced and delicious meals and snacks are freshly prepared on-site for the children in our care.
Download Sample Menu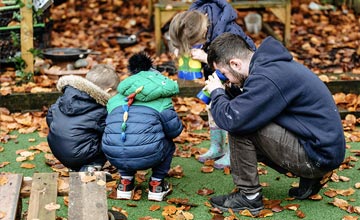 Our Reviews
We are highly recommended by families on Daynurseries.co.uk and were awarded UK Top 20 Mid-Size Nursery Group Awards each year from 2018-2022!
Read Our Reviews