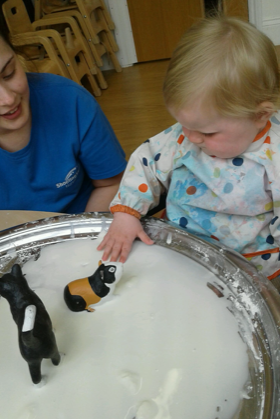 Splashing around in water, the Babies have been giggling and having great fun!
We set out the water tray with sensory balls and toys in and encouraged the babies to move them around. What a great time they had swishing them around and picking them up, causing the water to splash up as they dropped back into the tray- this was very funny, making them smile and laugh!
EYFS Links
Personal, Social and Emotional Development: Making relationships – Shows interest in the activities of others and responds differently to children and adults, e.g. may be more interested in watching children than adults or may pay more attention when children talk to them. 8-20 Months
Physical Development: Moving and Handling – Picks up small objects between thumb and fingers & Enjoys the sensory experience of making marks in damp sand, paste or paint. 8- 20 Months
Expressive arts and design: Exploring and using media and materials – Explores and experiments with a range of media through sensory exploration, and using whole body. 8-20 Months.